Columbus, Ohio Real Estate: How Did the Market Perform in June 2020?
How did the real estate market perform here in Columbus? We did the research! Find out below. 👇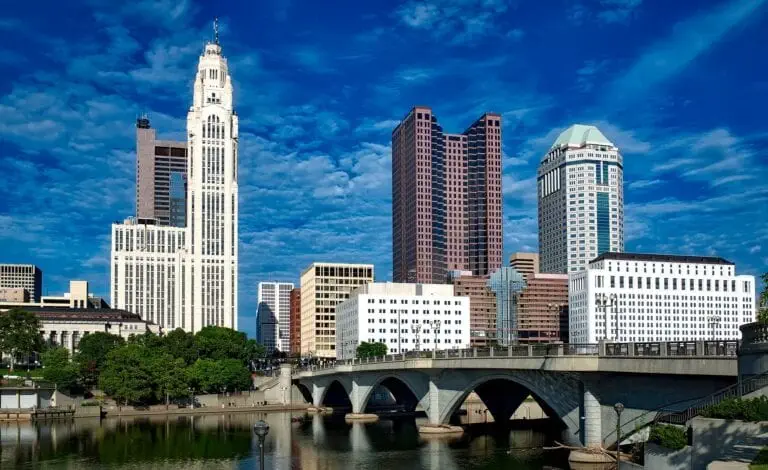 Watch Below for the Summary Video:
Welcome to our Columbus real estate market update for June of 2020. Each month, we analyze the sales data on how the real estate market here performed during the last month. Then, we put the data into a readable and easily understandable format for both our clients and the general public.
If you have any questions about the data in this month's report, please don't hesitate to reach out to us. We are always happy to help. You can find our contact information at the bottom of this page. 
How did the Columbus Ohio Real Estate Market Do in June 2020?
During the month of June, there were 322 more homes and condominiums listed for sale compared to May. The jump from 3,232 to 3,554 new listings generated increased interest and foot traffic from buyers actively seeking to purchase a home in central Ohio.
We've seen both buyers and sellers take a step back due to COVID; however, the buyers have been a bit more enthusiastic about re-entering the market. We believe it is a combination of the record low interest-rates and the threat of the second wave of the virus that have added a greater incentive amongst buyers to purchase sooner rather than later.
June saw 4,158 homes put in contract, which was a significant increase of 17 percent from May and 7.4 percent from June of 2019.
The 3,151 central Ohio homes and condos sold during the month of June were almost 24 percent higher than the previous month, but down 2.3 percent from 2019 according to the Columbus REALTORS® Multiple Listing Service.
Even with the increase in new listings, the increase in home sales and those put in contract left inventory at 2,948 which was 8.1 percent lower than the previous month and 38.4 percent lower than the same time last year.
Unsold inventory is at a 1.1 months supply which means that, if no more inventory were added to the market, it would take just over one month to sell all listed homes based on the current sales pace. This is the lowest in the history of central Ohio housing activity.
Central Ohio homes sold for an average of $272,020 during the month of June which was 4.1 percent ahead of 2019. The median sales price was $241,000, up 5.7 percent from last year.
The median sale price of a home in central Ohio sold during the first half of 2020 was $222,000, up 5.8 percent from one year ago. The average sale price was $252,715, up 4.89 percent from the first six months of 2019.
During the month of June, homes under $350,000 sold in an average of 23 days. Homes sold between $350,000 and $500,000 took about 33 days to sell. Homes sold between $500,000 and $700,000 sold in an average of 56 days and homes over $700,000 took an average of 76 days to sell.
As more people are working from home this year, we have noticed a shift in consumer real estate preferences when we look at the data. Many are looking for spaces for their home office(s). With an increase in work from home, we are also noticing that more people are less concerned with commute time, which therefore expands the neighborhoods people are looking for to those that may be farther away from the downtown Columbus area.
Current housing report – June 2020
All housing reports
Columbus REALTORS® is comprised of over 8,100 real estate professionals engaged in residential sales and leasing, commercial sales and leasing, property management, appraisal, consultation, real estate syndication, land development, and more.
The Columbus REALTORS® Multiple Listing Service (MLS) serves all of Franklin, Delaware, Fayette, Licking, Madison, Morrow, Pickaway, and Union Counties and parts of Athens, Champaign, Clark, Clinton, Fairfield, Hocking, Knox, Logan, Marion, Muskingum, Perry and Ross counties.

Central Ohio Homes for Sale & Listings
🏘 There were 4,784 homes for sale in June 2020 🏘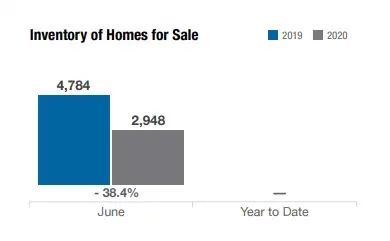 The Average Price per Square Foot in Columbus
💲 The Average Price per square foot in May 2020 was $146.16  💲
💲 Up 6.2% from June 2019💲
Columbus, Ohio: Days on Market
🏡  The average real estate listing stayed on the market  for just 27 days in May 2020 🏡
🏡 17% increase from June 2019 time of 23 days (just 4 more days) 🏡
💲 Columbus Ohio Home Prices 💲
💲 The average sale price for these listings was  $273,020 (up 4.1% from last year) 
💲  The median sale price for these listings was  $239,900 (up 5.9% from last year)
See the graph below to see how the median sale price has changed, year over year, since 2013 in Columbus 👇

Closed Home Sales vs Homes in Contract in Columbus

New Listings & Single Family Sales in Columbus

Percentage of Original List Price Received
This graph represents what percentage of homes sell for their original list prie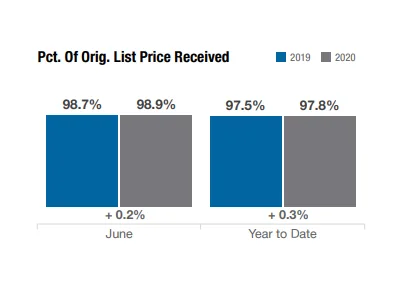 Condo Sales in Central Ohio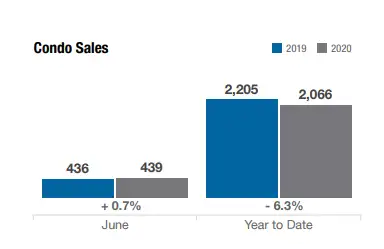 The Columbus, OH June 2020 Housing Data: At a Glance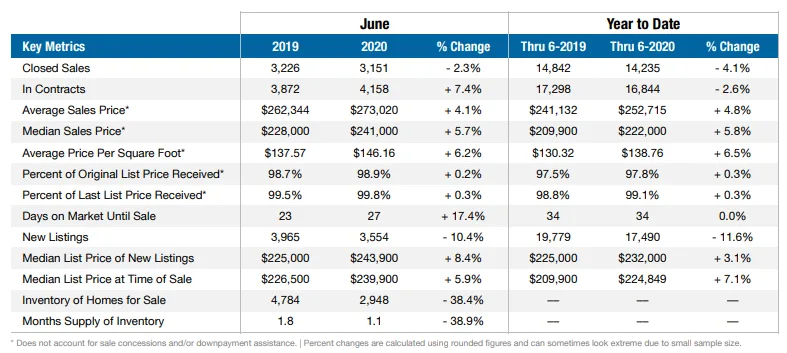 Fewer home sales happened this year in Columbus compared to the same period last year. However, both the average sale price and median sale price still increased during the period. Furthermore, the percentage of people that received a price for their home equal to their original list price remained virtually the same (this is something that a good real estate agent in Columbus will help manage more effectively). 
How to Sell Your Home Safely in Columbus
If you are planning to sell your home in Columbus, Ohio this year, we recommend watching this short video here, which has some quick tips for selling your home safely in 2020.
How to Buy a Home in Columbus
Click the link below to get our buyer's guide on how to buy your home in Columbus by getting mortgage ready
The information contained, and the opinions expressed, in this article are not intended to be construed as investment advice. Van Steyn Partners does not guarantee or warrant the accuracy or completeness of the information or opinions contained herein. Nothing herein should be construed as investment advice. You should always conduct your own research and due diligence and obtain professional advice before making any investment decision. Van Steyn Partners will not be liable for any loss or damage caused by your reliance on the information or opinions contained herein.
If you have any questions, you can contact us via the contact form below | Call us at 614-596-2934 | email us at [email protected] | or contact us via FB Messenger
We'll be happy to be of service.