Hottest new home design and building trends in Columbus Ohio
What are the hottest new home design and building trends in Columbus Ohio? They can be found at the Columbus BIA Parade of Homes which runs from September 1 through September 16.  This year's Parade, located in the Jerome Village of Dublin, features 7 homes from some of Columbus' premier home builders. The builders participating in this year's Parade are Bob Webb Builders, Romanelli and Hughes, 3 Pillar Homes, Manor Homes, Arthur Rutenburg Homes, Memmer Homes and Coppertree Homes.
As a Columbus Realtor who specializes in helping people build new homes, I'm always excited to see the hot new design and building trends for our region.
This year's Parade does not disappoint.  Here is a breakdown of my observations from this year's Parade: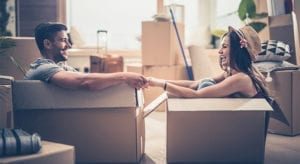 Modern Barn House
This trends continues to be the hottest look in home design without any signs of slowing down.  Barn doors, reclaimed wood, live-edge tree trunk tables, and natural stone are just a few design elements being used to showcase this look.  My biggest concern for our clients who are considering building or remodeling is the longevity of this trend.  It is likely that this trend will someday go out of style.  This may affect the resale value of their homes.
Natural Finished Woods
Going right along with the modern barn house is the popularity of lighter and natural finished woods. These lighter woods are primarily being used in flooring and cabinetry.
Grays
Still the most popular color pallet for walls and some cabinetry.  Grey seems to be the new standard.  I think it is versatility is what is keeping it popular.  Grays can work with all styles from sophisticated to chic.
Outdoor Living
There seems to be a real push to expand outdoor living space.  Sliding glass walls are a popular product making their way into the Columbus market.  These oversized glass doors can be opened to merge the indoor and outdoor living spaces.
Smart Home Devices
Smart devices are almost becoming the standard for new construction.  These devices, locks to lightbulbs, make it easy to control nearly everything in your home from a smart phone.  In fact the New York Times recently published an article outlining how to make your house a smart home and detailing the vast choices available to consumers.
If you're interested in the seeing some of the hottest new home design and building trends in Columbus Ohio , I suggest planning a trip to this year's BIA Parade of Homes in Dublin.
About the Author: Marc Van Steyn with REMAX Premier Choice, an authority on Columbus area real estate.  His group The Van Steyn Partners has helped literally thousands of families buy and sell homes since 1977.  You can contact Marc at 614-596-2934 or [email protected]
Looking to buy a home in the Columbus area? Find out more about us   www.VanSteynPartners.com
Looking to sell?  See how we use the latest technology to get our clients the best value for their homes www.Your-New-House.net